Vermonters had a name for gravel grinding before it became a buzz-phrase: road riding. Vermont's scenic dirt roads are a cyclist's delight and we have several gravel-ready machines capable of cruising over Vermont's scenic mountain gaps as well as traversing her rough Class 4 and logging roads.
Yeaaa, the global bike shortage is continuing into 2021. Here's what we currently have in stock:
---
Salsa Journeyman
, $949 - $1,499
A bikepacking rig with all the trappings at an amazing price point. Available in 700c and 650b. Full specifications.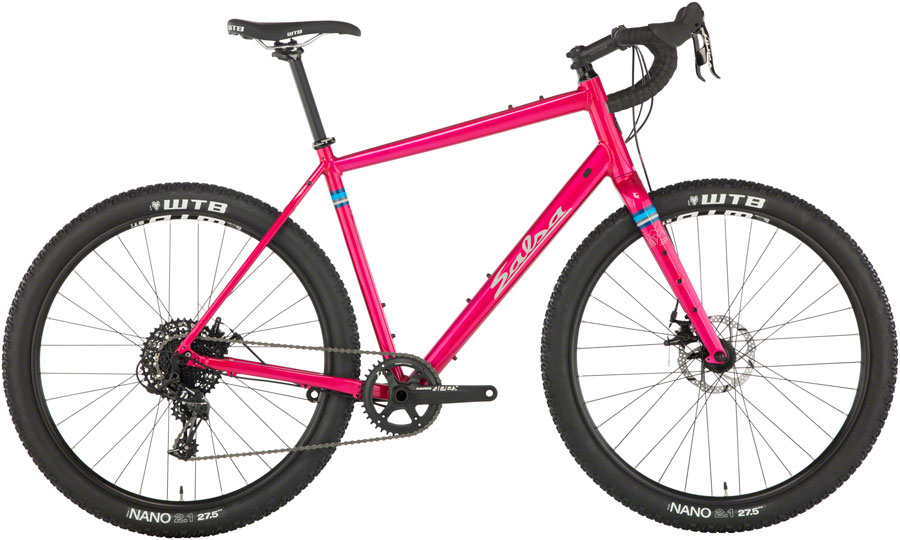 ---
Salsa Vaya Series, $1,399-1,799
Vaya is Salsa's road adventure and light touring bike, designed to handle any road surface, from pavement to gravel to dirt. The tubing selection and stable geometry across the line makes for a bike that feels great unloaded or loaded for a fast tour, soaking up unpredictable surfaces mile after mile, from one town to the next. Vaya is an extremely versatile machine, always ready and able if the path turns less than ideal. Full specs here.
---
Jamis Renegade Series - $999 - $1,299
For an approachable (but impressive) all-road rig, look no further than Jamis's Renegade series. These adaptable bikes leave it up to the rider: baseline road bike, or outfitted gravel-grinder? Either way, you'll enjoy a smooth ride. Full specs.
---
Also available:

                              58cm SURLY MIDNIGHT SPECIAL 650b - $1999.00
                        58cm BASSI HOG'S BACK COMPLETE BUILD - $1900.00
                   55cm BASSI LE MONTREAL COMPLETE BUILD - $1699.95
---
When you buy a new or used bicycle from Old Spokes Home, you get:
- the ongoing support of an experienced service staff that wants you to love biking
- complimentary adjustments for 30 days
- 10% off in-stock accessories for 30 days after any bike purchase. For starters, think about a lock, lights, and a helmet.
- to support Old Spokes Home's mission: creating access to bikes and the opportunities they provide for our whole community