ABOUT
Queen City Bicycle Club (QCBC) is a group of female and non-binary people riding bikes for fun, for connection, and for empowerment.
ABOUT THE NAME: Queen City Bicycle Club was one of the original cycling clubs in Burlington. The club formed in 1896 shortly after the invention of the bicycle and, as with most social societies of the day, was exclusive to white male elite, including many of Burlington's most powerful doctors, lawyers, and businessmen.
We're reclaiming and repurposing the name Queen City Bicycle Club and making this group a mechanism that specifically empowers women and non-binary people on bikes.
HOW TO JOIN
There is no formal way to join Queen City Bicycle Club. If you're a female-identifying or non-binary person who rides bicycles, you're part of QCBC if you want to be.
The Facebook group is the main method of communication. All of our 2018 events will be posted there. Members of the Facebook group should feel free to use the group to connect with one another, share related events, initiate discussions, and use the group as a resource.
STAY TUNED IN
Sign up for the Old Spokes Home email list to get alerts about upcoming QCBC rides and trips right in your inbox.
---
EVENTS
Monthly Social Rides // First Thursday every month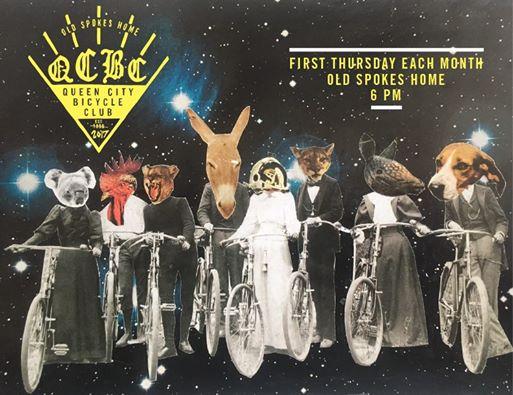 Queen City Bicycle Club is a group of female and non-binary people riding bikes to connect, protect, and empower people.
Join us for our monthly ride around Burlington with glitter and a giant boombox on a bike trailer. Wear a helmet and rock the front and rear bike lights.
Riders of all ages and experience levels are encouraged to come. No one is left behind! These rides are all about going slow and keeping the group together for maximum fun.
We'll start at Old Spokes Home and wrap up at 
Zero Gravity Craft Brewery
 where each rider gets a drink ticket.
Invite your friends! Join the 
Queen City Bicycle Club Facebook group
 for updates, conversation, and special rides and events.
These rides are made possible by 
Old Spokes Home
 and supported by 
Local Motion
.
---
Open Shop Nights
Open shop nights are an opportunity for QCBC members to work on their own bikes with the aid of professional and volunteer mechanics. Open shop nights are typically held through the fall and winter. Stay tuned to the Facebook group or sign-up for the Old Spokes Home e-mail list for event announcements.