---
Bizarre Bazaar
We're cleaning out the basement for a big yard sale during the Old North End Ramble.
Bike parts, frames, tools, practical accessories, impractical accessories, bike racks for cars, gear and clothing, rare vintage novelties, and bizarre bicycle-related accoutrements. It's yours for the taking at our annual Bizarre Bazaar.
More info here.
---
Sunny Hollow Youth Ride
August 10
Kids! Come join us for a summer mountain bike ride at Sunny Hollow in Colchester led by Dan and our Junior Mechanics. It's a three mile ride from the shop to the trailhead. We'll spend some time party biking the trails, then grab some pizza at Papa Franks on the way back. Mountain biking experience is helpful, but not necessary.
Ages 12 and up.
What you'll need:
- A dirt-capable bike
- A helmet
- Water
---
Dooryard Dalliance III: The Wreckoning
August 10-12
A point-to-point bikepacking trip along the xVT route. More info here
---
QCBC Social Rides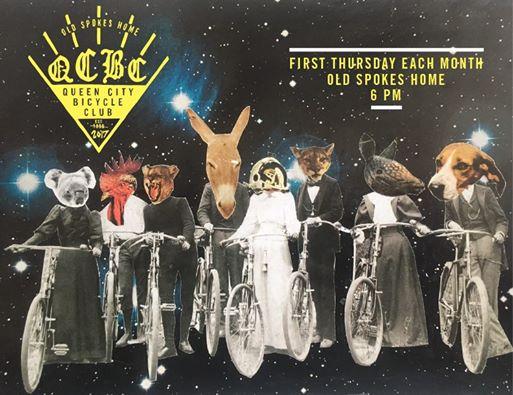 Queen City Bicycle Club is a group of female and non-binary people riding bikes to connect, protect, and empower people. More info about the club here!

Join us for our monthly ride around Burlington with glitter and a giant boombox on a bike trailer. Wear a helmet and rock the front and rear bike lights.

Riders of all ages and experience levels are encouraged to come. No one is left behind! These rides are all about going slow and keeping the group together for maximum fun.

We'll start at Old Spokes Home and wrap up at Zero Gravity Craft Brewery where each rider gets a drink ticket.

Invite your friends! Join the Queen City Bicycle Club Facebook group for updates, conversation, and special rides and events.

These rides are made possible by Old Spokes Home and supported by Local Motion.